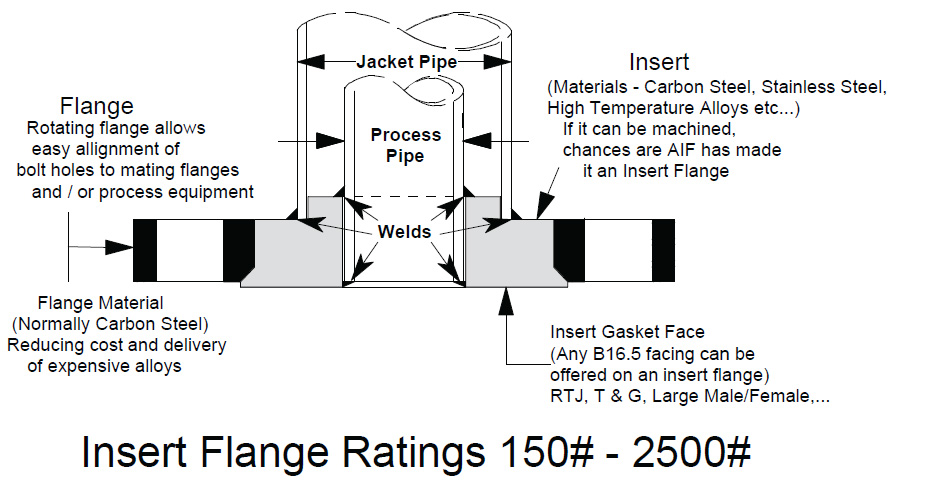 This question, "What is an insert flange?"is regularly asked by workers in the PVF industry. An insert flange is a two-piece flange, similar to a lap-joint and stub-end flange or a Vanstone Flange, however, it is of superior quality and has tremendous long term benefits for any piping system. The insert flange is certainly a niche product, but has seen a consistent growth in the flange marketplace.Some of an insert flange's benefits are:
The rotatable flange (bolting ring) allows for easy alignment of the bolting holes
The flange is usually made from carbon steel since it does not touch the pipe, this allows the insert to be made from stainless or specialty alloys to match up with your specific piping.
The insert flange for jacketed pipe is a unique flange because it caters to your personal size and schedule requirements for the process and jacket pipe. This allows for a perfect fit and can make fabricating a jacketed piping job easier with less prep time.
At AIF, we offer insert flanges in many different styles and weight classes. See our Product Page for details! All of our insert flanges are backed by detailed engineering calculations to meet the strict ASME code regulations of today's marketplace.
Insert flanges are based off of standard ANSI B16.5 flanges, therefore, most dimensions are the same, such as raised faces, bolt holes, and outside diameters. This allows for an easy transition from standard flanges to insert flanges.
There is no better test, than the test of time. Insert flanges have been used successfully around the world in chemical, food processing, pharmaceutical, and any other company where piping is used for over 75 years!